Roll over image to zoom in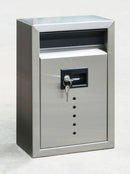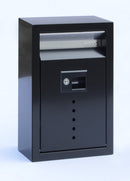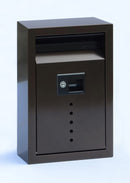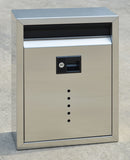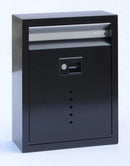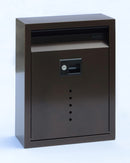 Description
The E9 and E10 are commercial grade locking wall mailboxes made of 20 gauge 304 stainless steel with a smooth satin finish or galvanized steel with a polyester base epoxy paint.
The lock assembly features a built in recessed finger pull with a combination spring loaded latch and key lock allowing the door to be used with of without locking.
The incoming mail slot is protected from the elements by a self closing angled flap finished in a textured satin black paint or stainless steel. The front door opens downward to 80 degrees preventing contents from falling out.
E9:  8.5 W 13 H 4 D. Slot: 7 W 1.5 H.
Hardware and two keys included.
E10: 11.5 W 15 H 5 D. Slot: 10 W 1.5 H.
Hardware and two keys included.
Installation
View all installation guides
******It is always recommended to contact your local postmaster prior to installation. While most of our mailboxes are USPS-approved your local postmaster may have additional preferences and requirements in terms of mailbox types and installation location******
Payment & Security
Your payment information is processed securely. We do not store credit card details nor have access to your credit card information.