Roll over image to zoom in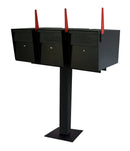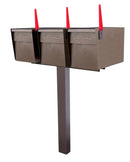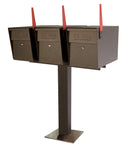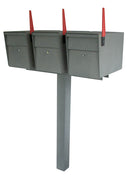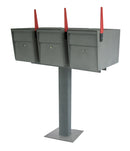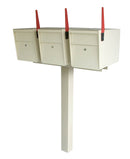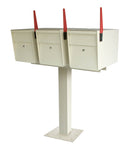 Description
The USPS approved Mail Boss Triple Multi-Mailbox Package delivers unrivaled security and protection against mail theft, identity theft, and vandalism, and is the most affordable security mailbox available.
Virtually impenetrable, it features a commercial grade 12 disc wafer lock and a patented anti-pry latch locking mechanism to prevent leveraged entry. Everything is included for your convenience - 3 keys, reflective house numbers, drill bit and mounting hardware
Included in the Box:
QTY
Item

Link

3
Mail boss Ultimate High-Security Locking Mailbox


- Includes Vandal Resistant Flag




- 3 keys per mailbox


- Reflective House Numbers (3 of each number 0-9)
- Fast-Trak Mounting Bracket

1
3-Box Spreader Bar
1
In-Ground / Optional Surface Mount Post
Optional
Newspaper Holder
  *All Hardware Required for Installation
Features:
U.S. Post Master Approved 

for curbside delivery

Commercial Grade 12 disc wafer lock with 3 keys
Full service, large capacity curbside locking security mailbox
12 & 14 Gauge electro-galvanized welded steel
Incoming mail slot accepts a box of checks Ð 1.9_ H x 10.25_ W
Stainless steel hinges for ease of use
Patented anti-pry latch locking mechanism to prevent leveraged entry
Locking access door with commercial grade high-security wafer lock
Patented Fast-Trak Mounting Plate for quick installation
Durable powder-coated finish
Includes: vandal resistant flag, 3 keys, reflective house numbers & installation hardware
Dimensions:
Mailbox

Height

(inches)

Width

(inches)

Depth

(inches)

Mailbox
13.75"
11.25"
21"
In-Ground Post
43"
4"
4"
Surface Mount Post
27"
4"
4"
Spreader Bar
2"
34"
5"
Installation:
Installation
View all installation guides
******It is always recommended to contact your local postmaster prior to installation. While most of our mailboxes are USPS-approved your local postmaster may have additional preferences and requirements in terms of mailbox types and installation location******
Spiffy
Mailboxes not only super solid and bigger than I expected but my neighbor thinks they look spiffy!!!
Mailbox
Excellent quality. Easy to install.
Mail Boss Triple High-Security Locking Mailbox & Post
Mail Boss Triple High-Security Locking Mailbox & Post
Excellent, truly superior product at Great value, FAST Services/Delivery
Thank you for providing the solution we needed in very timely manner, much appreciated!!
We had very tight timeline to complete our project and your company was life saver :)
Payment & Security
Your payment information is processed securely. We do not store credit card details nor have access to your credit card information.