Roll over image to zoom in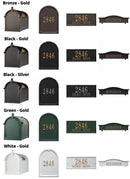 Description
Distinctive in Design...Bring the past together with the present in a way that's beautiful and radiant. Good taste and superior quality never go out of style.
Unique New England styled product offering the timeless charm of the East Coast, installs easily over a standard 4x4 wood post.
Mayne plastic mail posts are made from high quality 100% polyethylene with built-in UV inhibitors for long-lasting protection from the elements.
Includes large decorative post and mailbox support arm with built-in paper holder slot. Product ships in 2 boxes (liberty post MP5806B / arm MP5807BK).
Medium or large mailbox recommended minimum 7-inch width. Best suited for mailboxes weighing less than 16lbs. Note: 4x4 wood post, mailbox, and mailbox mounting hardware NOT included with any Mayne mail posts.
15 Year Warranty – Residential Application, 5 Year Warranty – Commercial Application.
Optional Mayne No-Dig Ground Screw available.
Installation
View all installation guides
******It is always recommended to contact your local postmaster prior to installation. While most of our mailboxes are USPS-approved your local postmaster may have additional preferences and requirements in terms of mailbox types and installation location******
Payment & Security
Your payment information is processed securely. We do not store credit card details nor have access to your credit card information.