Roll over image to zoom in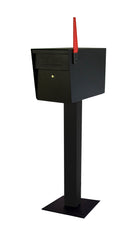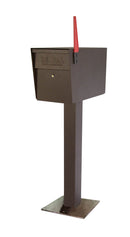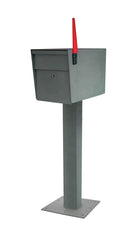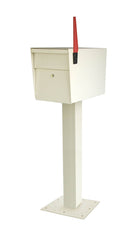 Description
The USPS approved Mail Boss Ultimate High-Security Mailbox and Post Package delivers unrivaled security and protection against mail theft, identity theft, and vandalism, and is the most affordable security mailbox available.
Virtually impenetrable, it features a commercial grade 12 disc wafer lock and a patented anti-pry latch locking mechanism to prevent leveraged entry. Everything is included for your convenience - 3 keys, reflective house numbers, drill bit and mounting hardware
Features:
U.S. Post Master Approved 

for curbside delivery

Commercial Grade 12 disc wafer lock with 3 keys
Full service, large capacity curbside locking security mailbox
12 & 14 Gauge electro-galvanized welded steel
Incoming mail slot accepts a box of checks Ð 1.9_ H x 10.25_ W
Stainless steel hinges for ease of use
Patented anti-pry latch locking mechanism to prevent leveraged entry
Locking access door with commercial grade high-security wafer lock
Patented Fast-Trak Mounting Plate for quick installation
Durable powder-coated finish
Includes: vandal resistant flag, 3 keys, reflective house numbers & installation hardware
Included in the Box:
| QTY | Item | Link |
| --- | --- | --- |
| 1 | Mail boss Ultimate High-Security Locking Mailbox | |
| 1 | In-Ground / Optional Surface Mount Post | |
| Optional | Newspaper Holder | |
  *All Hardware Required for Installation
Dimensions:
Mailbox

Height

(inches)

Width

(inches)

Depth

(inches)

Mailbox
13.75"
11.25"
21"
In-Ground Post
43"
4"
4"
Surface Mount Post
27"
4"
4"
Installation:
Installation
View all installation guides
******It is always recommended to contact your local postmaster prior to installation. While most of our mailboxes are USPS-approved your local postmaster may have additional preferences and requirements in terms of mailbox types and installation location******
Locking post mailbox
My prior mailbox was vandalized. The new mailbox came fast. It a heavy, sturdy, box that will be hard to vandalize. Yeah!! I love it!!!
Residential Mailbox
The mailbox is well made and very secured for our packages and mail. We are content with our purchase.
High Quality
This is a heavy duty mailbox. Thick metal box and post. It is painted and ready to install. It came with 3 keys and sets of numbers. I bought it because it had no ratings below 4 stars. Was well worth the price.
Love our MailBoss Mailboxes!
Our community is thrilled to have these practical, secure, good-looking mailboxes up! Our last "inherited" ones had paint chipping off and it was very uncomfortable for us to retrieve our mail through the slot without our mailbox keys. Even the shipping was fast! I am giving them 4 stars because one of them arrived with a small dent. The return/exchange process is stringent and requires images beyond just the problem area(s) so make sure not to recycle any of the boxes received until you know with certainty you will not need to file a claim. I decided to stay with the dented mailbox and I'll attempt to correct it via a recommendation that was provided to me via email by MailBox empire staff members. Their customer service team is responsive and provide great guidance regarding USPS requirements.
Payment & Security
Your payment information is processed securely. We do not store credit card details nor have access to your credit card information.