Roll over image to zoom in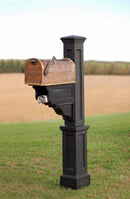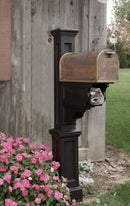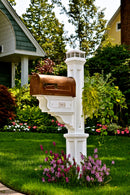 Description
A Statement of Pride...Simple yet strong, the Dover Mail Post serves as a perfect and warm invitation to retrieve your mail at the end of the drive.
Unique New England styled product offering the timeless charm of the East Coast, installs easily over a standard  4x4 wood post.
Mayne plastic mail posts are made from high quality 100% polyethylene with built in UV inhibitors for long lasting protection from the elements. Includes decorative post and mailbox support arm with paper holder.
Product ships in 2 boxes (standard post MP5802BK / arm MP5810BK). Medium mailbox recommended, minimum 6 1/2 inch width. Best suited for mailboxes weighing less than 12lbs. Note: 4x4 wood post, mailbox, and mailbox mounting hardware NOT included with any Mayne mail posts.
15 Year Warranty – Residential Application, 5 Year Warranty – Commercial Application.
Optional Mayne No-Dig Ground Screw available.
Optional Mayne Solar Cap Add-On available in white or black.
Installation
View all installation guides
******It is always recommended to contact your local postmaster prior to installation. While most of our mailboxes are USPS-approved your local postmaster may have additional preferences and requirements in terms of mailbox types and installation location******
Payment & Security
Your payment information is processed securely. We do not store credit card details nor have access to your credit card information.