Roll over image to zoom in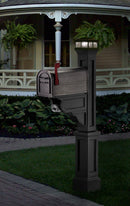 Description
Add a unique touch to your Mayne mail post with our solar cap accessory. Accent your Mayne mail post and make it more visible at night with our low maintenance PVC solar cap.
No modification to the post required, simply set the cap on top of the post and attach using the hardware provided.
LED light source. Includes 2 rechargeable AA batteries.
Note: Solar cap designed for the following Mayne mail posts: Newport Plus, Westbrook Plus, Dover, Signature Plus, Rockport Single, and Rockport Double.
Product includes a 2-year warranty on the solar panel.
Installation
View all installation guides
******It is always recommended to contact your local postmaster prior to installation. While most of our mailboxes are USPS-approved your local postmaster may have additional preferences and requirements in terms of mailbox types and installation location******
Payment & Security
Your payment information is processed securely. We do not store credit card details nor have access to your credit card information.