Roll over image to zoom in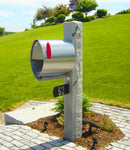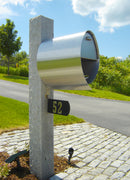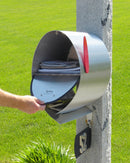 Description
The Spira Postbox will beautifully complement your home adding a modern touch to the end of your driveway
Size: Large
Material: Heavy duty stainless steel construction
Combination mailbox newspaper/package holder 
Mounts on Granite or Wood Posts
Self-draining paper bin
Quality smooth-sealing door
Magnetic catch closes door securely
Style: Classic-Contemporary styling
Self-Draining newspaper shelf
Ergonomic Metal Handel
Dimensions: Exterior: 10" wide x 17.5" high x 18" deep
Installation:
Simple two-bolt installation
Mounts easily to the Spira Post

 or on a wood, granite or metal post with integrated mounting bracket requiring only 

two f

asteners (included).
Installation
View all installation guides
******It is always recommended to contact your local postmaster prior to installation. While most of our mailboxes are USPS-approved your local postmaster may have additional preferences and requirements in terms of mailbox types and installation location******
Payment & Security
Your payment information is processed securely. We do not store credit card details nor have access to your credit card information.