Roll over image to zoom in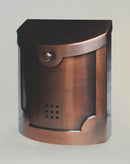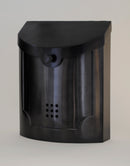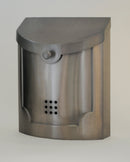 Description
The E4 mailbox is the bigger version of the popular E5 model, sharing the same clean lines and is ideal for limited space application.
The gentle curved front is highlighted by see through perforations for viewing contents.
Crafted in 18 gauge solid brass with the same precision and quality as the E5, the mailbox is available in satin nickel, copper, satin brass, antique copper, bronze and black pewter.
Size: 11 W 14 H 4.5 D. Hardware included.
Floating architectural numbers are available in matching finishes. See numbers section.
Installation
View all installation guides
******It is always recommended to contact your local postmaster prior to installation. While most of our mailboxes are USPS-approved your local postmaster may have additional preferences and requirements in terms of mailbox types and installation location******
Payment & Security
Your payment information is processed securely. We do not store credit card details nor have access to your credit card information.